The City of Mableton was established by a referendum passed by voters in November 2022. Elections for Mayor and City Council were held in March (with a run-off election in April), and the first Council meeting was held in May. Elected City officials are:

Seated left to right:  The Honorable Patricia Auch, District 4; The Honorable Keisha Jeffcoat, District 3; The Honorable Dami Oladapo, District 2
Standing left to right: The Honorable TJ Ferguson, District 5;  The Honorable Debora Herndon, District 6; The Honorable Michael Owens, Mayor; The Honorable Ron Davis, District 1
CITY CONTACTS

COUNCIL MEMBER EMAIL ADDRESS
CITY STAFF EMAIL ADDRESS
CITY NEWS
CITY SERVICES
The City is expected to take on the services that were identified in the Feasibility Study: zoning, code enforcement, economic and community development, and waste management. Until that time, however, these functions continue to be handled by Cobb County. Services not transitioned to the City will continue as County functions. These details of these decisions will be the subject of an intergovernmental agreement between the City and Cobb County.
CITY BOUNDARIES
The boundaries of the City were set by the legislation authorizing the referendum. Here are two helpful maps:
Map showing Mableton City boundaries and City Council Districts (below).
Interactive map that allows user to enter street address to determine City Council district for that address.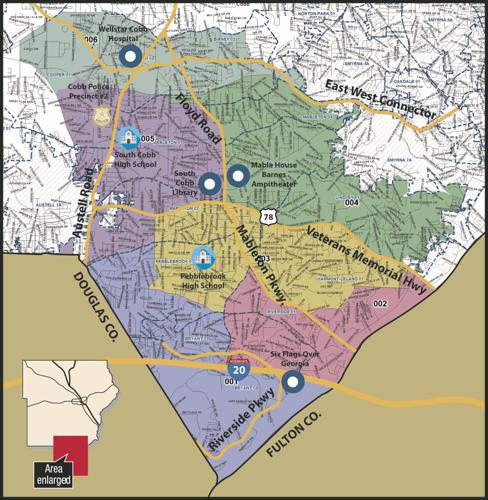 MABLETON IMPROVEMENT COALITION POSITION ON CITYHOOD
The Mableton Improvement Coalition maintained a neutral position as to the establishment of the City. However, now that the City has been established, it is MIC's position that residents should come together to support the new City regardless of their position prior to the November election. MIC is committed to having a productive relationship with our new Mayor and Council, just as we enjoy with Cobb County officials.