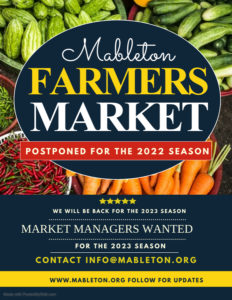 The Mableton Farmers Market 2022 Season at the Mable House Complex has been postponed until the 2023 Season. We plan to be back in 2023 with a great season.
If you are interested in applying for the 2023 season, please read the Market Rules and Regulations and the Hold Harmless Agreement .
Next season should be about the same, hopefully with the exception of Covid-related operating guidelines.  Vendor liability insurance will likely be required again.  Retailers should not apply.
The Market is a Supplemental Nutrition Assistance Program (SNAP, formerly food stamps) retailer.  Our partnership with Wholesome Wave GA (WWG) enables SNAP customers to double their fresh fruits and vegetable purchases, thanks to their Georgia Fresh For Less (GF4L) program.  If you need assistance with SNAP enrollment or problems with your existing account, reach out to WWG online  or call them and leave a message at 678-631-7101, or email them.  For general information about WWG, check out their website.  Consider making a tax-deductible donation to this very worthy charitable organization.
Email MIC at info@mableton.org with questions/concerns.