One of the most talked-about subjects in our Facebook group is restaurants. MIC's Economic Development Committee decided to visit Mableton restaurants periodically, and provide some basic information about them — or in other words, "shine a spotlight" on the restaurants in our community. MIC does not endorse the restaurants; the Spotlight exists simply to introduce Mabletonians to restaurants in Mableton.
Today's spotlight is Mr. Beale's Texas BBQ.
When we went:  Thursday, April 19th, 12:15pm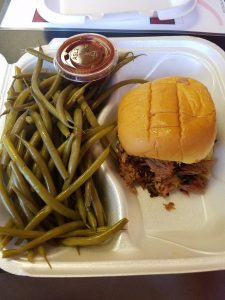 Chef:  Mr. Beale!
Our meals:  Baby Back Ribs, green beans, baked sweet potato / Chopped Beef Brisket sandwich on potato roll, green beans
Delivery/Takeout: Call-in available for takeout or home delivery via doordash.com, grubhub.com, and seamless.com
Location: Publix shopping center, 5015 Floyd Road SW, #620, Mableton GA 30126
Phone:  678-742-7979
Hours: Su 1pm-6pm, Mo-Th 11am-8pm, Fr-Sa 11am-9pm
Food Safety Score:  99/A – 11.1.17
Ambience:  very basic; décor appears to represent the owner's interests and history (Atlanta Falcons, UGA Football, military service)
Wifi: not detected
Parking info:  plenty
Website:  mrbealetexasbbq.com
Experience:  food is ordered at the back counter, meal is served at your table or booth in a Styrofoam container.  BBQ sauce is served on the side, and there are many other optional sauces at the counter.  Portions not overly large, but rather, reasonable in size and price.  Both the brisket and ribs had the requisite "smoke ring", very tender.  Sides were very tasty, seasoned well, and very fresh.  When Mr. Beale came in while we were there, he was very cordial in saying a welcoming hello as he walked in the door, and the young lady serving us provided very quick customer service.